Holiday Illness Symptoms and Causes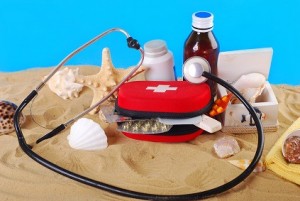 Causes of Holiday Illness
Some reasons why people become ill on holiday are not always obvious. The cause of sickness abroad at hotels might include the following examples:-
Food being served luke-warm – a breeding ground for bacteria
Food not being cooked thoroughly –  causes of campylobacter & salmonella
Food that has been reheated or left standing for too long
Flies and insects contaminating food
Birds and other animals being permitted to contaminate food service areas
Infected or ill food handlers touching and preparing food
Ice which has not been prepared using filtered water
Salads and fruit washed in tap water – can lead to infections such as Shigella, E-Coli or Giardia
The swimming pool is a known cause of sickness outbreaks at hotels – common cause of the parasite cryptosporidium
Public toilets – may be hazardous if the last visitor has not washed their hands and then touches a surface when exiting e.g. the door knob
It is always important to take extra precautions when you are travelling abroad to avoid illness, such as using anti-bacterial gel and avoiding drinking the local tap water (including ice-cubes prepared with tap water).
However, your tour operator is responsible for any of the failings stated above and should you fall ill or sick as a consequence of poor food handling you likely will have a claim.
Contact Parmar Solicitors on Freephone: 08000 515 515 to speak to one of our specialist holiday illness claim Solicitors.
Symptoms of Holiday Illness
Common symptoms include: –
Stomach cramps
Diarrhea
Nausea
Vomiting
Nosebleeds
Blurred vision
High temperature
Fatigue
Constipation
If you have recently been on a package holiday and experienced any of the symptoms stated above due to the negligence or lack of care of the hotel you could be entitled to claim.
Holiday Illness Claim Form
If you have a holiday sickness claim and wish to find out more please submit your details below and one of specialist holiday illness claim lawyers will contact you.
[bestwebsoft_contact_form id=1]